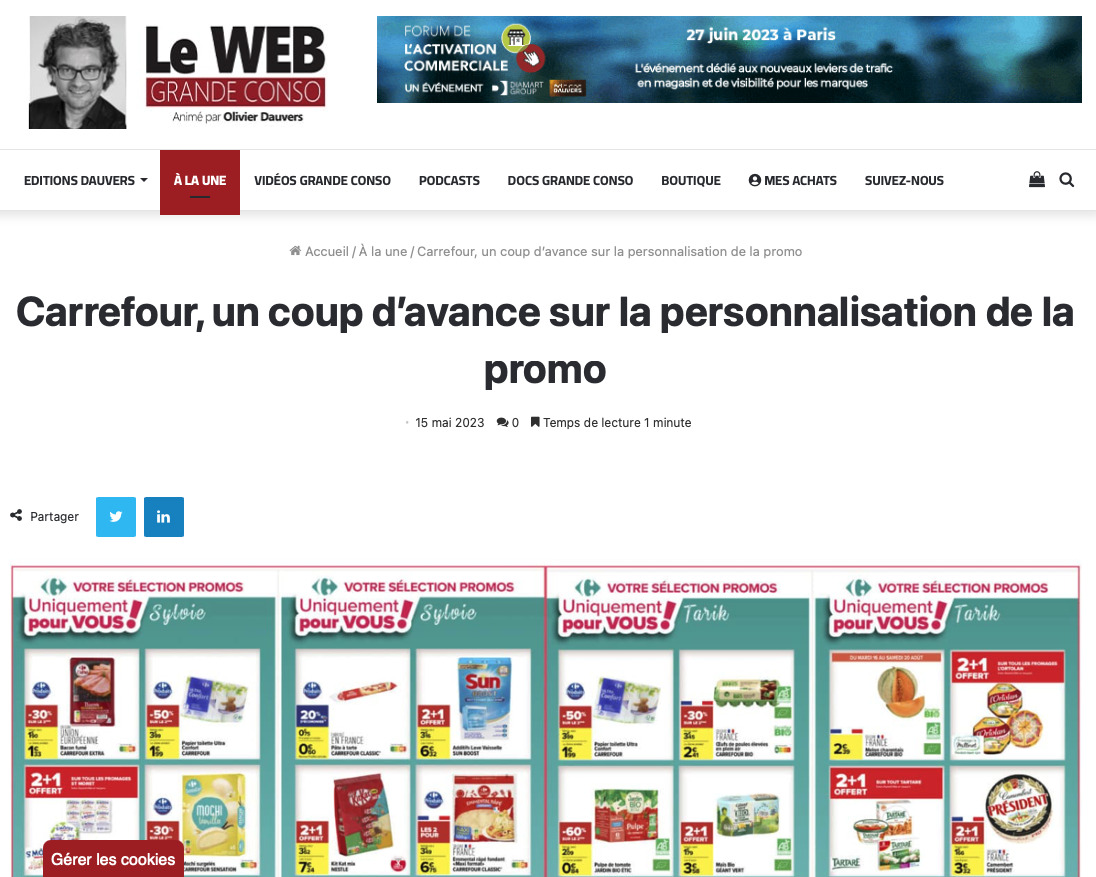 "Don't lose a customer or a euro in sales". The Carrefour mantra in its approach to the digitalization of the promo has the merit of being simple and clear. Committed to an 80% reduction in paper volume by the end of 2024, the group has been making parallel progress on digital flyer personalization since autumn 2022 to encourage its customers to make the switch. I spoke to you about this earlier this year.
In this area, Carrefour is clearly ahead of the game, with the help of Aristid, its service provider for leaflet, paper and digital solutions. Both lifted a corner of the veil at a morning session dedicated to the digitalization of promotions, organized by Meta on Thursday.
Of Carrefour's 14 million subscribers, around a quarter already receive a personalized email highlighting the 8, or even 12, offers in the weekly flyer that are most relevant to their shopping habits. If fewer than 8 products are relevant, then the email redirects them to the standard e-catalog. So as not to compromise the promise of personalization, which meets a strong customer expectation: "personalized" emails are clicked twice as often as those pushing the "omnibus" leaflet. And the optimized reading experience garners 17 NPS points more than the non-personalized e-reader.
At the same time, Carrefour is following its phasing-out plan. I gave you a little update at the end of March here, and here's a new one: by the end of June, 35 Carrefour and 290 Market stores will have completely done away with leaflet distribution. That's roughly 15% and 30% of the two networks. This compares with 200 Leclercs already leaflet-free (270 in July), before the big leap on September 1."
Thanks to Olivier Dauvers for this article about our collaboration with Carrefour.
Read the article here